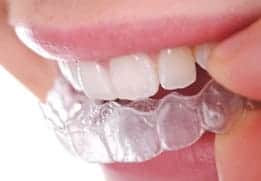 A dental appliance is a device that is put in the mouth that can be removed to clean, sometimes referred to as removable dental appliance. This includes dentures, sports mouth guards, clench inhibitors, night guards, bleaching trays, orthodontic retainers and aligners, snoring and airway appliances.
They have an important role for oral health, from replacing missing teeth, to protecting the teeth and mouth from trauma. Whatever the reason you have an appliance, it is important to keep it clean – just like your teeth.
Plaque biofilm will develop on all surfaces in your mouth, including the surfaces of appliances. Your mouth has hundreds of bacteria that will thrive in the plaque biofilm that builds up on the surface of your appliance, so it's really important to clean appliances thoroughly and regularly – even if it's only in your mouth for an hour each week.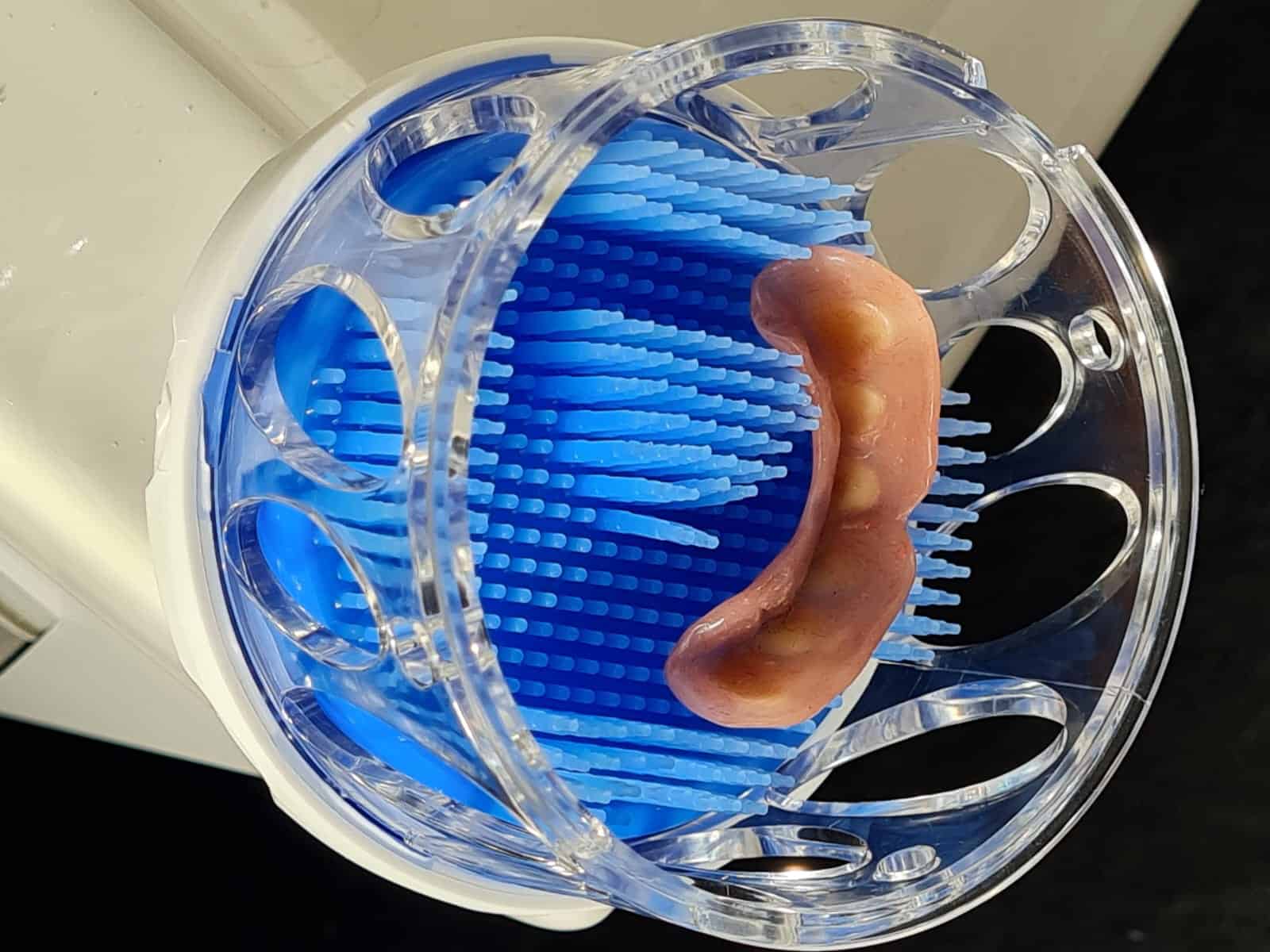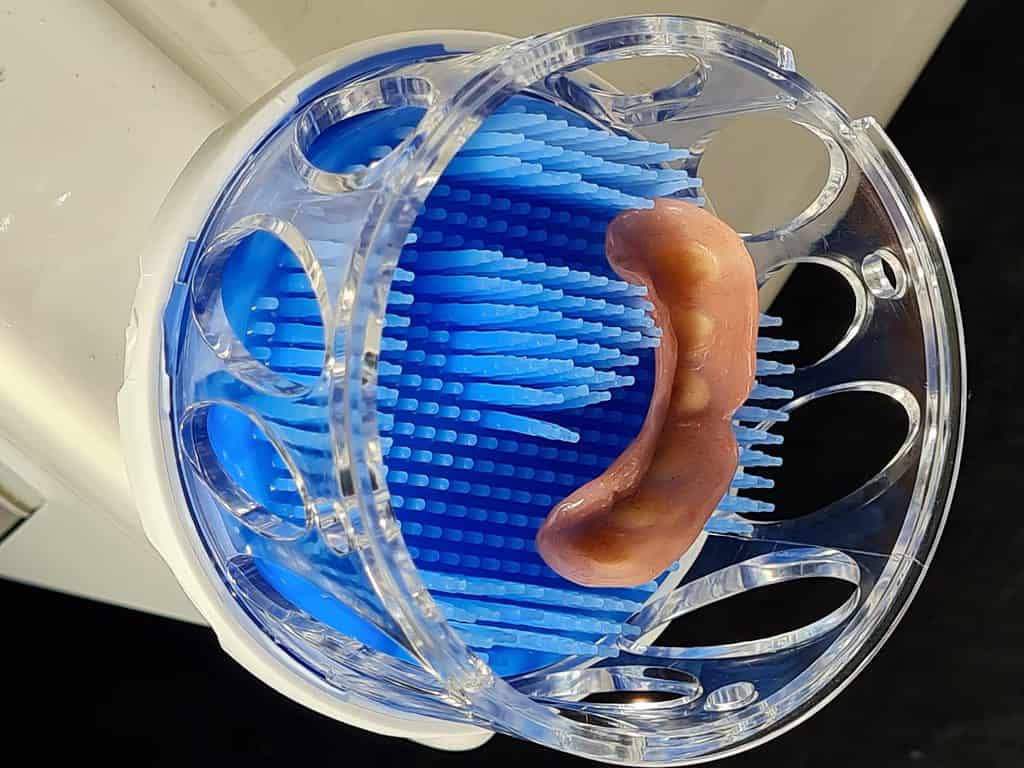 It is also important to clean teeth and soft tissues which are in contact with your appliances. This isn't always easy if you have a single tooth on either side of your mouth, or the appliance is supported by dental implants.
Take your mouth guard with you when you visit your dentist so they can check fit and wear, and clean it for you if necessary. Always let them know if you are having problems wearing your appliance.
Thorough daily cleaning is important for comfort and health. Poor appliance hygiene can lead to soreness, infection and bad breath.
Your dental team or Growing Smiles Oral Health Coach will give you one to one advice on what is right for you. Not sure how? Book Time Out For Teeth, our virtual coaching service for one to one advice.
How to Care for your Dental Appliance
Rinsing, immersing and brushing all have a role in appliance hygiene care. Follow instructions from your dental team and the manufacturer's instructions on product use.
Dental appliances are made of a variety of materials including metal, acrylic and resins. It is important that you use a cleaning method suitable for your appliance. Rinsing will not remove plaque biofilm that builds up on all surfaces in the mouth.
Dentures
Unless otherwise advised by your dentist, dentures should always be left out of the mouth at night. This allows the soft tissues and mouth time to rest and helps reduce the risk of infection. Use a soft toothbrush to clean the gums and other soft tissues ie. roof of your mouth. If you are unable to take your dentures out overnight, aim to take them out for 4-8 hours each day.
Denture adhesives can be difficult to remove from the mouth and denture. Rinse your mouth and use a soft brush if necessary. Use a soft brush or cloth to remove excess adhesive from the denture. Speak to your dentist if your denture doesn't fit properly.
If you wear full or part dentures you should visit your dentist regularly. They will check your denture fits properly, look for signs of infection and carry out a mouth cancer screening.
The Oral Health Foundation has published new Denture care guidelines in July 2019 which can be found here.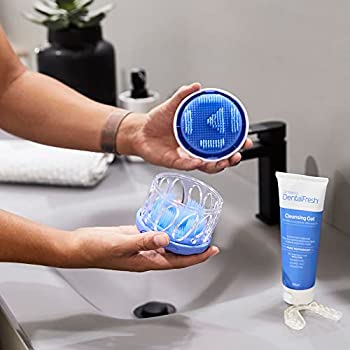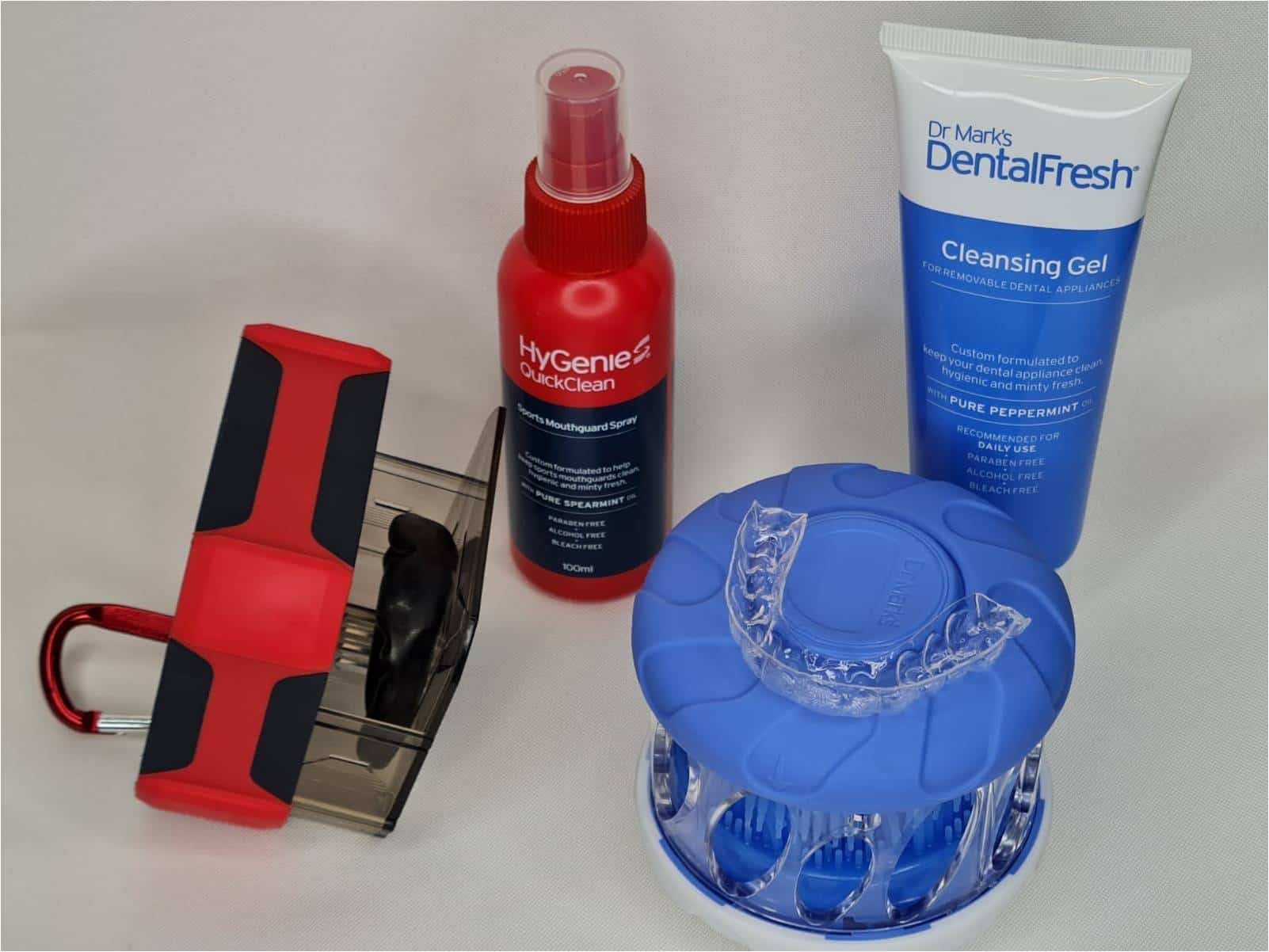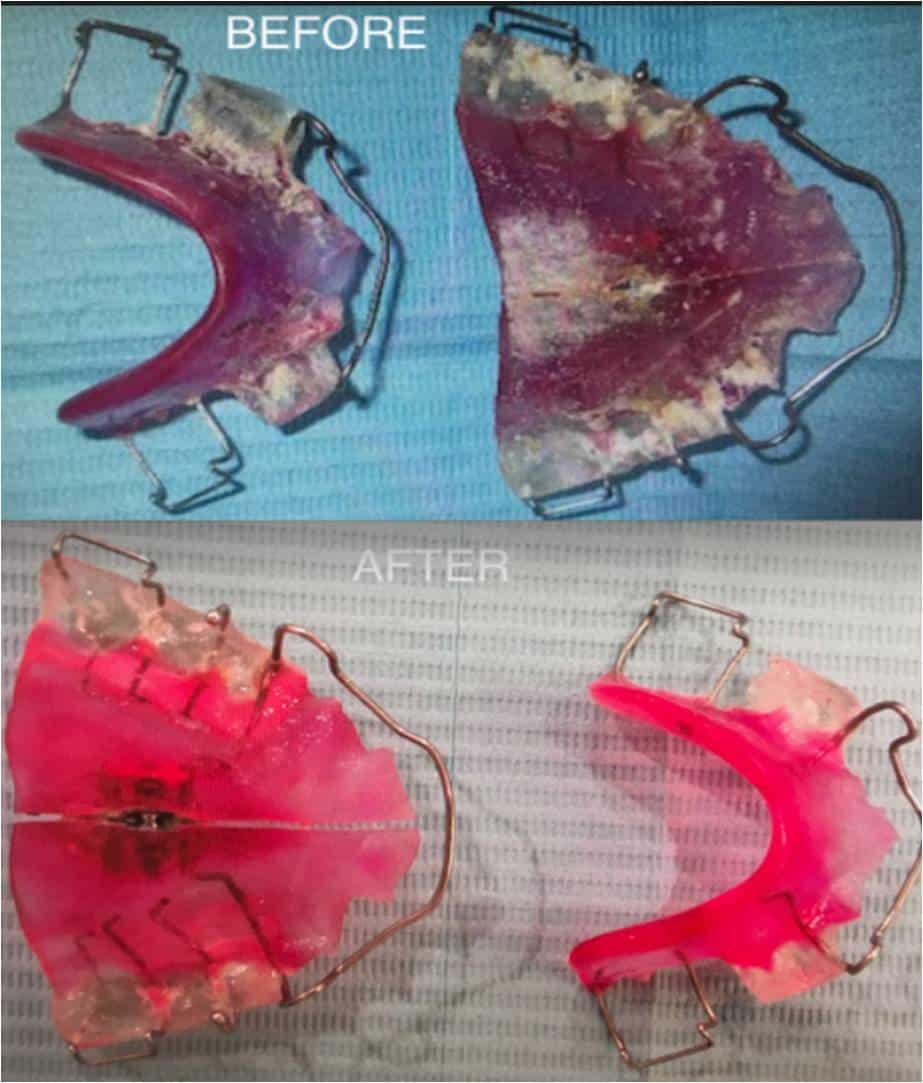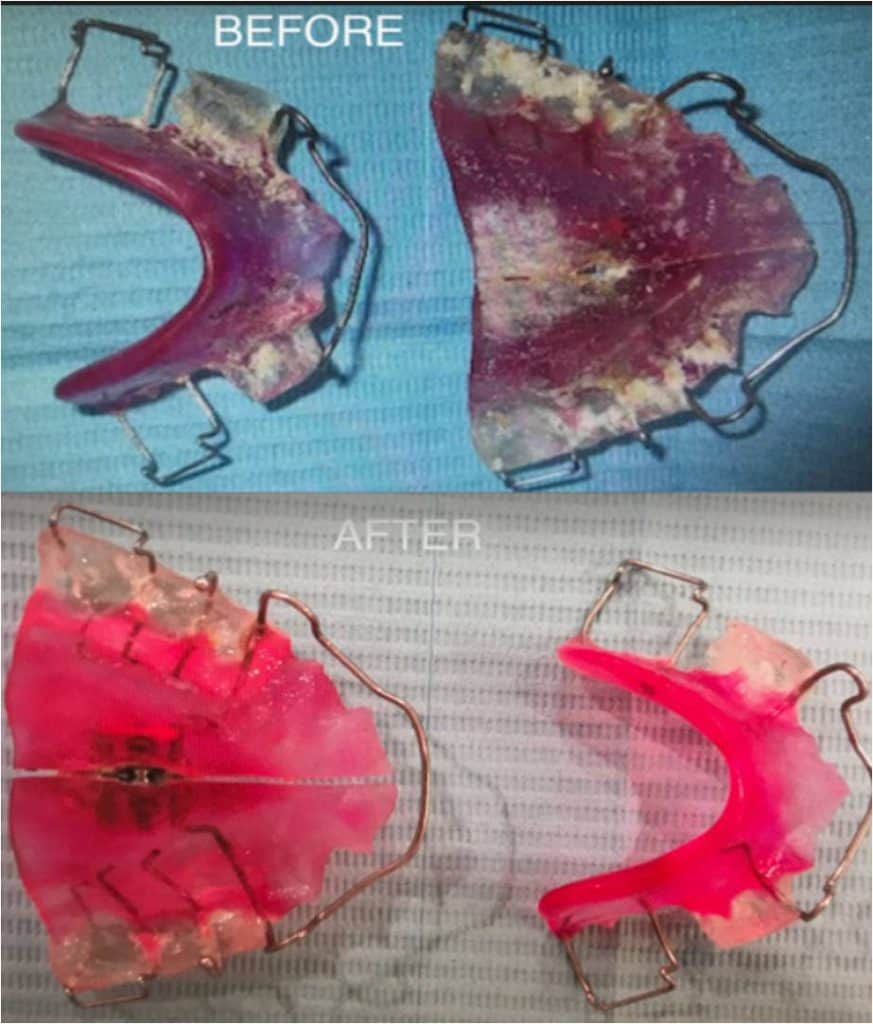 Dr Marks Hygenie used with Dental Fresh Gel over approximately 2 weeks to remove calcified 'tartar'.
Sports mouthguard? Dr Marks Quick Sport Rapid Hygiene kit is perfect for your sports bag. Spray and store in the unique sports cage attached to your kit back with the included carabiner. No more smelly mouth shield going back in your mouth after sitting in the bottom of your bag! Protect your mouthgaurd and your teeth.
All Appliances
After eating the appliance should be removed and both mouth and appliance rinsed or cleaned.
Clean teeth and gums thoroughly: Clean between teeth first then brush all surfaces of teeth including the gum line with fluoride toothpaste. Spit out after brushing but don't rinse – let the fluoride and other ingredients in the toothpaste work between brushing.
Your appliance: You can use a soft toothbrush, denture brush or similar brush to clean the appliance. Make sure that the bristles can reach every surface.
You can use an appliance cleaning tablet to soak the appliance in first. This will loosen debris. Rinse (follow manufacturer's instructions). Then brush.
Clean over a basin of water, or place a clean facecloth or towel in the bottom of the sink in case appliance is dropped. Easier to use with less handling is Dr Marks Dental HyGenie clean and care kit.
Use a suitable cleanser or soap (Growing Smiles recommends Curaprox daily cleaning gel)
DO NOT use toothpaste to clean your appliance.
Clean the fitting surface that goes against the teeth and soft tissues of your mouth thoroughly – this will take time. Watch oral health coach LeighGS' routine here.
See the build up of plaque biofilm on orthodontic aligners and how to clean here.
Check out our appliance cleaning range here.
Storage
Store as advised by your dental team. If you have been advised not to let your appliance dry out, store in fresh, clean water whenever you aren't wearing it.
If the appliance is to be stored dry e.g. sports mouth guard, store in a suitable container, i.e. one that will protect the mouth guard and allow air to circulate.
Always rinse the appliance before placing it in your mouth again.
When not in use, keep your storage container empty, clean and dry.
A word about contact sports. A professionally fitted sports guard is best – ask your dental team. Your teeth are worth it!
Don't forget to keep your teeth and gums clean and healthy and visit your dental team regularly. Subscribe to the Growing Smiles YouTube channel for videos on cleaning your teeth and gums.
Quick Guide – How to