The Dummy Tree is the Place To Be!
Calling all dummy owners, we need your dummies! Make your dummy happy. Let it join its friends on the dummy tree!
For healthly mouths and teeth, aim to stop thumb sucking or dummy use by 12 months and certainly be 3 years.
Excessive thumb/dummy sucking can slow down speech development and can severely affect teeth development, especially the front teeth.
So make those growing smiles happy and send us your dummy to add to the tree!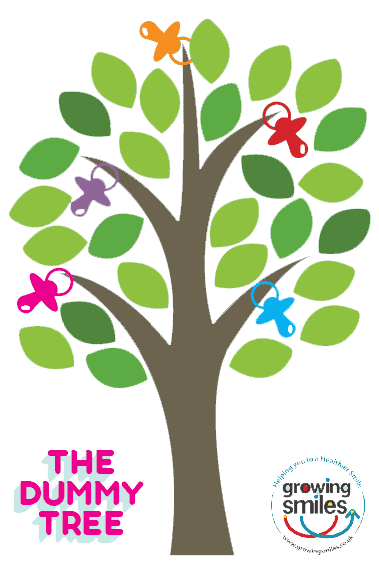 Thank you for your interest in the Dummy Tree! We understand it is a big undertaking to give up a dummy and appreciate that it can cause worry about where it goes and what happens to it – we aim to make it a little easier! Just pop your well loved dummy(s) in an envelope with the donor's name and address and send to: 
The Dummy Tree at Growing Smiles, Quarterland Road, Islandmagee, BT40 3RW.
We will tag your well loved dummy with your child's first name and general geographic location e.g. Leicester etc (or not, as you prefer), and hang it on the Dummy Tree. Once safely settled on The Dummy Tree we take a photo of it – which comes with a sticky back so it can be stuck to the fridge etc.
We then send the kind donor of the well loved dummy a card with their name thanking them for giving up their dummy. This has a little poem about the Dummy Tree and tips for looking after little teeth along with the photo and a little surprise for a Growing Smile!
We hope to welcome a dummy from your home one day very soon!