Growing Smiles Toothpaste Guide
*Please note this is not exhaustive. Please contact us or your dental team for information on which toothpaste is best suited for your oral health. At the end of the toothpaste ingredients table you will find a key which will help you find toothpastes with different levels of fluoride, are fluoride free, those which are sodium lauryl sulphate free and those that have xylitol. We hope this helps. If you have any queries please contact us.
The global oral care market is worth tens of billions of U.S dollars and with the UK toothpaste market worth 461 million pounds in 2015 it's not surprising that manufacturers are constantly developing ranges vying for your attention. Many manufacturers work closely with the dental profession to ensure they support the profession in their efforts to improve oral health. This is how fluoride added to toothpaste has made the most significant impact in improving oral health in the last 75 years. With so many options it can be a challenge knowing what is right for you and your family!
What do you use?
Whatever the wife/husband buys? Whatever Mum/Dad buys?
Your decision may be affected by cost, flavour, professional recommendation, advertising or something else but how many of us seriously think about what we put on our toothbrush?
Why bother?
Toothpaste can help to remove plaque biofilm from teeth and gums, reduce stain and apply agents (active ingredients) that can help improve tooth and gum health. Active ingredients can help manage tooth sensitivity, whiten teeth, or reduce gingivitis or tartar build-up.
So what should you use?
Your choice depends on your current oral health status and your risk of developing oral disease or problems. Keep in mind your risk of developing an oral condition will change throughout life, so it is important to visit the dentist regularly (as often as they recommend) to have your oral health reviewed. It is always best to prevent problems – and prevention starts at home 365 days a year. Your oral health is in your hands.
Toothpaste (dentifrice) is a paste or gel used to help clean teeth and improve oral health
What's in the tube?
20 -42% of toothpaste is water!
Binders – thickens the paste and stabilises the formulation
e.g. Natural gums
Carageenan
Seaweed colloid
Synthetic cellulose
Humectants – helps to keep paste moist and prevents it drying out/ hardening
e.g. Xylitol
Glycerol
Sorbitol
Foaming agents/Detergents/Surfactants
help to penetrate and loosen surface deposits and contribute to foaming action of toothpaste.
e.g. Sodium lauryl sulphate (SLS)
Sodium nlauryl sarcosinate
Sodium Alkyl Sulphate
Note – some people who suffer from ulcers are sensitive to sodium laurly sulphate so avoiding SLS can help reduce ulcers
Preservatives – prevents germs growing, extends shelf life
e.g. Benzoates
Alcohol
Dichlorinated phenols
Cleaning/polishing agents
Pigments from foods, tobacco etc can stain the plaque biofilm on tooth surfaces. Polishing agents can help remove stained biofilm
e.g Calcium Carbonate
Phosphate salts
Hyrated aluminium oxide
Activated carbon
Silica
Sodium Hexametaphosphate.
Flavouring – gives a pleasant flavour/masks other ingredients
e.g. essential oils
Artificial sweeteners – Xylitol, Glycerol, Sorbitol
The Main Functions of Toothpaste
One of the main functions of toothpaste is to apply an agent/s to the teeth and gums that benefits oral health (the active ingredient). Most commonly these agents target one or more of the following –
Tooth decay
Gum disease
Sensitivity
Tartar control
Whitening
Acid erosion control – tooth surface loss/tooth wear
Fresh breath – halitosis/oral malodour
Dry mouth
Some toothpastes offer all round protection with an active ingredient/s e.g. Fluoride has proven benefits against one or more oral conditions. E.g tooth decay, gum inflammation, sensitivity and acid erosion. Other pastes have an active ingredient which targets a specific problem e.g. Novamin or other bioactive glass for sensitivity. Selection of a toothpaste should be made with your dental team or Growing Smiles oral health coach and is dependent on your risk/benefit of use.
Toothpaste Active Ingredients
Active ingredients are added to toothpaste to improve health or reduce negative symptoms
The most common active ingredients include –
Fluoride – is found in toothpastes targeting tooth decay, gum disease and sensitivity.
Fluoride is a naturally occurring mineral found in water in varying amounts, depending on where you live. Many people don't know if their water supply is fluoridated – speak to your dental team if you are not sure. Only 10% of England's population have fluoridated water at an optimum level. If in doubt, information can be obtained from your water supplier by quoting your residential postcode.
More information on water fluoridation in the UK can be found here https://www.nhs.uk/conditions/Fluoride/Pages/Introduction.aspx
Fluoride was first added to toothpastes in the 1890s. In 1955, Procter & Gamble launched Crest as its first clinically proven fluoride-containing toothpaste. On August 1, 1960, the American Dental Association reported that "Crest has been shown to be an effective anti-cavity (decay preventing) dentifrice (toothpaste) that can be of significant value when used in a conscientiously applied program of oral hygiene and regular professional care."
Supported by more than half a century of research, the benefits of fluoride toothpastes are firmly established, reducing tooth decay, by about 24% on average, when compared with a non-fluoride toothpaste.
Everyone will benefit from using fluoride toothpaste at night time and one other time every day.
Twice a day use increases the benefit.
Spit toothpaste out after brushing but don't rinse – let the ingredients work!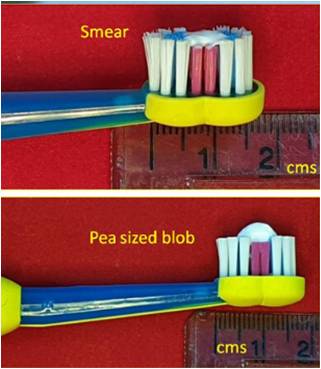 Recommended level of fluoride in toothpaste –
0-3 years use a smear of paste with at least 1000ppm fluoride * (small children should not lick or eat toothpaste from the tube)
3-6 years should use a pea sized blob of toothpaste with at least 1000ppm fluoride*
Children at increased risk of tooth decay/cavities should use a toothpaste with 1350 – 1500ppm fluoride
Do not let children eat or lick toothpaste from the tube.
From 7 years children should use toothpaste with between 1350-1500ppm fluoride
See picture to get an idea of how much a smear and pea sized blob actually are!
The list below is based on information in Delivering Better Oral Health (PHE 2017) and updated and amended by Growing Smiles August 2019. The list of ingredients will be on the toothpaste tube and will state in parts per million the amount of fluoride present.
* TOOTHPASTE IS SODIUM LAURYL SULPHATE (SLS) FREE
+ TOOTHPASTE HAS LOW FLUORIDE BUT FORMULATION AND/OR INGREDIENTS ARE EQUIVALENT TO REMINERALISING TOOTH SURFACES USING ~1350PPM FLUORIDE
# TOOTHPASTE CONTAINS XYLITOL – FIND OUT MORE ABOUT THE BENEFITS OF XYLITOL HERE https://growingsmiles.co.uk/healthy-tips-for-happy-teeth-and-oral-health/sugar-and-oral-health/
This is for guidance only and is not exhaustive of all toothpastes available. Brands, formulations and active ingredients may change. Please always check ingredients for possible individual allergens. Growing Smiles cannot be held responsible for any interaction to products an individual selects.
The most common types of fluoride added to toothpaste are –
Sodium Fluoride – 1350 – 1500ppm (parts per million)
Stannous fluoride – Stannous fluoride has been shown to be more effective than sodium fluoride in reducing the incidence of dental caries and controlling gingivitis (bleeding gums), but may cause more surface stains. e.g. Oral B Pro Expert, Sensodyne Rapid Relief.
Check fluoride concentration. Look for the parts per million of fluoride on ingredients label (ppmF-). Less than 1000ppmF- is a low concentration and offers limited or no protection against decay. 1450ppmF- is generally used in over-the-counter UK toothpastes and is recommended by the dental profession. Children's formulas can contain lower levels. Many people – especially those who brush well – don't need extra active ingredients apart from fluoride.
Some toothpastes do not contain fluoride e.g. Sensodyne Original, Oral B Rembrandt Plus Fresh Mint, Euthymol.
High Fluoride Toothpastes
If you are considered high risk of tooth decay, your dentist (or Doctor) may prescribe a high fluoride toothpaste – in certain circumstances this may be a private prescription. Consider it an investment in your future dental health – regular use may prevent expensive dental treatment.
These toothpastes are prescription only medicines and either contain 2800ppm ( over 10 years of age) or 5000ppm ( over 16 years of age) and their use is based on risk assessed need with your dentist.
Sodium fluoride 2,800 ppm toothpaste Indications: high caries risk patients aged 10 years and over.
http://www.colgateprofessional.co.uk/products/colgate-duraphat-2800ppm-fluoride-toothpaste/overview
Sodium fluoride 5,000 ppm toothpaste Indications: patients aged 16 years and over with high caries risk, present or potential for root caries, dry mouth, orthodontic appliances, overdentures, those with highly cariogenic diet or medication.
http://www.colgateprofessional.co.uk/products/colgate-duraphat-5000ppm-fluoride-toothpaste/overview
OTHER ACTIVE INGREDIENTS YOU MAY FIND IN TOOTHPASTE
Antibacterial agents – reduces plaque, inflamed and bleeding gums, and decay. Evidence suggests that toothpastes containing triclosan in combination with a copolymer or with zinc citrate are more effective than a fluoride only toothpaste in improving plaque biofilm control and gingival health. Triclosan is an antibacterial ingredient added to toothpaste sometimes with copolymer, which reduces the amount of triclosan washed away by rinsing or saliva. Other anti-plaque agents include bromochlorophene zinc citrate, papain and sanguinaria extract.
Tartar control agents e.g. Pyrophosphates help reduce formation of tartar (calcified plaque biofilm). Other agents that have been shown to reduce tartar – Zinc citrate.
Tartar control toothpastes will not remove tartar – calcified plaque biofilm – from the tooth surfaces. It will slow down/prevent new tartar forming. Visit your dental team to have tartar removed professionally.
Desensitising agents Ingredients that can help with sensitivity by creating a barrier to nerve endings relieving pain – Potassium nitrate, Calcium sodium phosphosilicate (NovaMin). Fluoride (Stannous or sodium fluoride), Arginine, Sodium chloride, Silver nitrate
If you find a desensitising toothpaste that works for you, you need to continue use long term or your sensitivity is likely to recur.
Remineralising agents – neutralise plaque acids, and help repair tooth enamel e.g Xylitol, Sodium fluoride, Sodium monofluorophosphate, Casein Phosphopeptide – Amorphous Calcium Phosphate (ACP), Arginine bicarbonate, calcium carbonate, Bioactive glass (Novamin) e.g. Enamelon, Colgate Maximum cavity protection, Sensodyne Repair and Protect.
Xylitol is a sugar alcohol that occurs naturally in plants and is used as a substitute for sugar. Sources are fruits, berries, mushrooms, lettuce, hardwoods and corn on the cob. The dental significance of xylitol was discovered in Finland in the early 1970s.
Xylitol has the ability to:Reduce dental plaque formation; Make plaque less adhesive; Neutralise plaque acids by decreasing the production of acids; Reduce the numbers of decay causing bacteria in the mouth; help reduce tooth decay; reduces gum tissue inflammation; help with dry mouth and bad breath. Xylitol also stimulates salivary flow. Increased salivary flow offers protection to both the oral soft tissues and the teeth. It has also been shown that a combination of fluoride and xylitol is more effective than fluoride alone. e.g. Brush Baby toothpaste
*GC Tooth Mousse and GC MI Plus Paste with Recaldent are effective remineralising agents for teeth. It is used as well as a toothpaste and is applied to the tooth surface and left – consider it a moisturiser for teeth! For more information see
Whitening agents/Stain removal – Whitening toothpastes do not typically contain bleaches. Instead, they contain abrasive particles or chemicals that polish the teeth or attach to stains and help pull them off the tooth surface. Curaprox black is white toothpaste contains activated carbon and has an RDA of 59.
Acid erosion prevention – Fluoride , Potassium nitrate, Zinc-hydroxyapatite, Amorphous calcium phosphate, casein phosphopeptide, Stannous Chloride e.g Sensodyne Pronamel, Oral-B Pro-Expert Enamel Regeneration.
Bad breath/Oral malodour/ Halitosis – Active ingredients Zinc citrate, Zinc acetate, Stannous fluoride with sodium hexametaphosphate have been shown to reduce volatile sulphur compounds which contribute to bad breath
e.g. Ultradex.
Dry mouth – essential oils e.g.Biotine, Bioxtra, More to follow
Also consider Xylimelts
Acid erosion e.g. Pronamel More to follow
Ulcers/sore mouth – avoid SLS (Sodium Lauryl Sulphate, a foaming agent), e.g. Oranurse is SLS free and flavour free and non foaming.
Non foaming e.g. Oranurse. More to follow
Non fluoride e.g. some of the Splat range, Sensodyne original, Euthymol
Herbal/natural – e.g. Kingfisher (Vegan, gluten free, GM free), Aloe Vera. Often do not contain fluoride.More to follow.
Taste/flavour alternatives to mint
Applemint (1000ppm) Brush Baby
Abrasiveness RDA (Relative dentine abrasivity) – more to followon how abrasive toothpastes a can be and how this can impact tooth surfaces. An abrasive toothpaste especially when used with a hard toothbrush can increase the wear on tooth surfaces. See image on page for a guide to RDA of many toothpastes. vv